TO THE EXTREME – EXTREME WARRIOR – NEW IN 2022!
20th April, 2022
Commercial reality means Saturday's Listed Bel Esprit Stakes will be one of Extreme Warrior's last appearances on the track.
Extreme Warrior will have a couple of chances to post a Group One win before he retires to stand at Rosemont Stud near Geelong.
Extreme Warrior has only had six starts but his racing days will be done before he turns four.
Outside factors brought forward Extreme Warrior's retirement.
The colt is a son of red-hot sire Extreme Choice, who has posted freakish numbers with his progeny despite the stallion struggling with fertility issues.
Extreme Choice has already sired Golden Slipper winner Stay Inside, Group One Champagne Stakes winner She's Extreme and potential star Espiona from only 38 foals to race.
The stallion's fertility issues compelled Newgate Farm to restrict Extreme Choice's books to mares owned by shareholders to extend his career.
Breeders have turned to sons of Extreme Choice to jump on the trend.
Rosemont Stud boss Anthony Mithen said market forces meant it made financial sense to stand Extreme Warrior in the 2022 breeding season.
Extreme Warrior could earn his owners millions every breeding season but would need to win multiple Group One races every year to come close to the amounts he could generate off the track.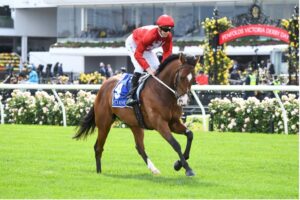 "We all love racing our horses in the Rosemont but you've got to be a commercial realist and understand that quality sons of Extreme Choice are in high demand from the breeders," Mithen said.
"We go off to stud at the same time as Stay Inside, who won a Golden Slipper, but our horse is the highest-rated three-year-old colt by Extreme Choice and he's the best bred of those colts.
"He screams stallion and he screams popular stallion so we've got to keep those wheels in motion."
Mithen bought a controlling share of Extreme Warrior after the colt blitzed his rivals in the Group 3 Blue Sapphire at Caulfield last spring.
Bookies posted Extreme Warrior as the pre-post favourite for the Coolmore Stud Stakes but pulled up with a problem while Home Affairs raced away to win the race for the race sponsor.
Home Affairs boosted his stud value when he rolled the older horses in the Group One Lightning Stakes in February while Extreme Warrior was home getting over a minor issue that delayed his return.
"We haven't had things go our way but when you watch others multi up into tens of millions of dollars, it makes you gnash your teeth a bit," Mithen said.
"You think it could have been or should have been us.
"Maybe this is him time now."
The Mick Price and Michael Kent Jr-trained Extreme Warrior is a $2.20 favourite to resume a winner in the Bel Esprit Stakes.
Mithen said Extreme Warrior's performance would determine whether connections target the Group 1 Goodwood in Adelaide or the Group 1 Doomben 10,000 in Brisbane.